iPad Work Flow
Camera- Photos- Vimeo- Safari- Blogger
Vimeo  http://itunes.apple.com/nz/app/vimeo/id425194759?mt=8
 You can make simple video trim edits from within the iPad camera roll itself. With Vimeo you can upload your videos to Vimeo and embed them on your blog. 
For this tutorial I used the iPad video camera to take a movie. This workflow works with any video in the Camera Roll. In this project we are only going to trim the ends of the video. To do more complex editing I would recommend iMovie.
To take a movie open the camera app slide the camera icon to the right.
Once you have made the movie it will be in your Photos Camera Roll. You can trim the beginning and end by touching the timeline at the top until it turns yellow & drag the ends toward the middle and then click TRIM.
Vimeo
 Open the Vimeo app and log in or join. Click on upload.
Choose the video that you want to upload. Give it a Title and select its quality. It will upload. This might take a while.
The video will render for a while and then you will be able to see it in the timeline.
Click on the video to play it and scroll down the screen to see a menu bar.
Click on the CC to select the appropriate Creative Commons licence.

Click on the Up/Down arrows to pretend to email the link to the video so you can get the URL for the video.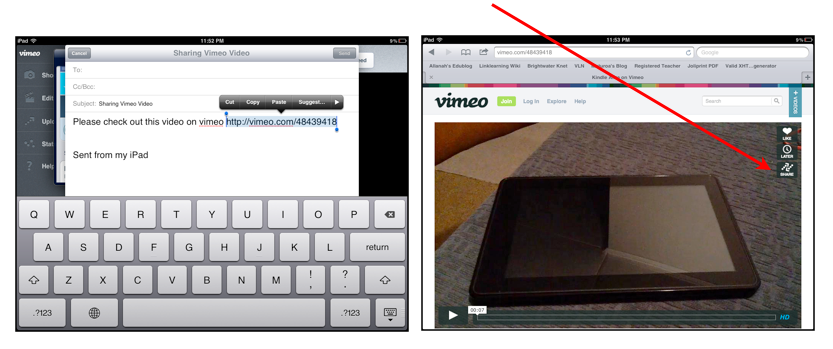 Press and hold the URL address, select and copy it. Post the the URL into the Safari address bar. Look for the SHARE icon.
Look for the embed code. Press and hold the embed code. Select all of it and copy it.
Blogger
 Now you are ready to share your video. Go to your Blogger in Safari and log in.
 Click on the pencil to write a new blog post.
Paste the copied embed code into the body of the blog post.
If you have labels on your blog remember to add it. Then click Publish.
Go to Safari to see how the blog post looks!
If you would prefer to download a paper copy of this video you can do so here.
This work by Allanah King is licensed under a Creative Commons Attribution-NonCommercial-ShareAlike 3.0 Unported License.