Yesterday was International Dot Day. I love Dot Days. Our last effort was using the iPads. I love the concept of schools all over the world being joined together through sharing children's art work.
As we were learning how to use Google Drawings better I thought I would have my boys draw their dots in Drawings. I wanted to show them our effort from previous years but to my horror I found out Photopeach is now blocked at school because we have recently moved to using N4L (Network for Learning). I don't know how to get the fabulous Photopeach Slideshow Maker unblocked so I could use it to show previous dots and share this year's dots.
And with a bit of help from N4L Photopeach is now unblocked at school. I rang them on 0800LEARNING http://www.n4l.co.nz/contact/ and it was sorted lickety split.
So I had to find another way and You Tube isn't blocked. You Tube Slideshow Creator! To get there just go to your YouTube Upload Page.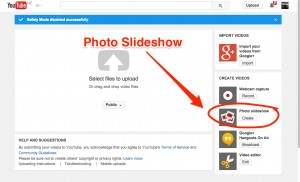 Here is a video that shows you how to do it.
You upload your photos en masse, select a sound track and Boom. Job done. Slideshow on blog!