iPad Work Flow
Camera- Photos- Show Me- Blogger
Show Me http://itunes.apple.com/nz/app/showme-interactive-whiteboard/id445066279?mt=8
With Show Me you can record your own audio while drawing or import photos and give a commentary. In this tutorial I wanted to share a Running Record.
Show Me
Firstly I used the iPad camera to take photos of the pages of the book. Open up Show Me- if you haven't already done so make you self an account. I would suggest making a separate log in email rather than signing up with Facebook or Twitter.
Click on Create new Show Me.
 To just record while you draw click the red recording button at the centre top but to record voice over photos click on the photo icon.
If the photo needs rotating then rotate it.
To record press the red button.
Push it again to pause the audio recording.
Tap Clear All to clear the screen ready for the next screen of recording.
Repeat until you're done then click the blue Save Show Me icon. Chose a category and the Show Me will render and play.
Now open the Show Me in Safari.
Click where it says embed, make sure it is highlighted and press Copy to copy the embed code.
Now you are ready to share your Show Me. Go to your Blog in Safari and log in.
Click on the HTML tab to write a new blog post, inserting the embed code.
If you have labels on your blog remember to add it. Then click Publish.
Go to Safari to see how the blog post looks! http://moturoa.blogspot.co.nz/2012/08/caitlin-reading.html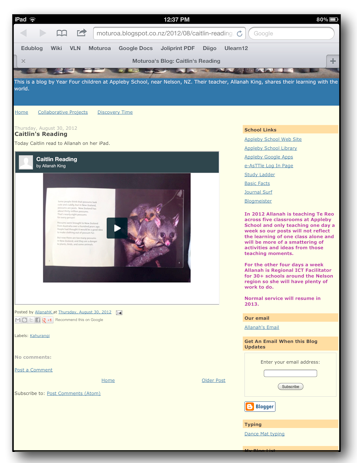 If you would like to download a paper version of this tutorial here it is.
And here is the actual blog post. http://moturoa.blogspot.co.nz/2012/08/caitlin-reading.html